CSS JS Menu by Css3Menu.com
Genus Eupeodes
The species of this genus show unusual amount of intraspecific variation in color of head and legs. Most of them are multivoltne and Eupeodes larvae consider as predators of aphids (Vockeroth 1992).
Identification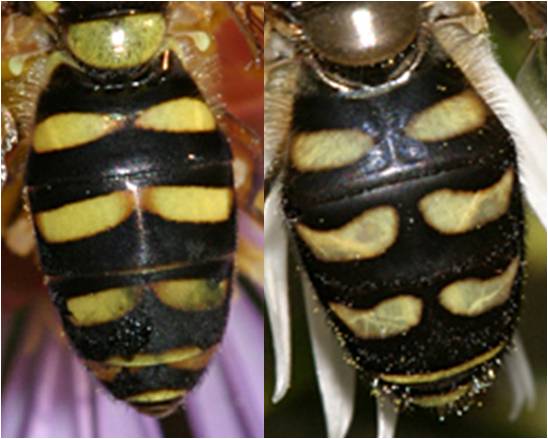 Copyright: Tom Murray
Some dorsal abdominal patterns of Eupeodes species
They have strongly margined, oval shaped abdomen with prominent paired yellow spots or cross bands. These yellow markings do not extend to the edge of the abdominal tergites (Fluke 1952).
Kingdom
&nbsp Animalia
Phylum
&nbsp Arthropoda
Subphylum
&nbsp Hexapoda
Class
&nbsp Insecta
Subclass
&nbsp Pterygota
Infraclass
&nbsp Neoptera
Order
&nbsp Diptera
Suborder
&nbsp Brachycera
Infraorder
&nbsp Muscomorpha
Family
&nbsp Syrphidae
Subfamily
&nbsp Syrphinae
Tribe
&nbsp Syrphini
Genus
&nbsp Eupeodes
&nbsp&nbsp&nbsp&nbsp&nbsp&nbsp&nbsp&nbsp&nbsp&nbsp&nbsp&nbsp&nbsp&nbsp&nbsp&nbsp
Direct Children:
&nbsp
Eupeodes abberrantis (Curran, 1925)
&nbsp
Eupeodes americanus (Osten Sacken, 1877)
&nbsp
Eupeodes confertus (Fluke, 1952)
&nbsp
Eupeodes curtus (Hine, 1922)
&nbsp
Eupeodes flukei (Jones, 1917)
&nbsp
Eupeodes fumipennis (Thomson, 1869)
&nbsp
Eupeodes gentneri (Fluke, 1952)
&nbsp
Eupeodes lapponicus (Zetterstedt, 1838)
&nbsp
Eupeodes latifasciatus (Macquart, 1829)
&nbsp
Eupeodes luniger (Meigen, 1822)
&nbsp
Eupeodes montanus (Curran, 1925)
&nbsp
Eupeodes montivagus (Snow, 1895)
&nbsp
Eupeodes neoperplexus (Curran, 1925)
&nbsp
Eupeodes nigroventris (Fluke, 1933)
&nbsp
Eupeodes perplexus (Osburn, 1910)
&nbsp
Eupeodes pingreensis (Fluke, 1930)
&nbsp
Eupeodes pomus (Curran, 1921)
&nbsp
Eupeodes rufipunctatus (Curran, 1925)
&nbsp
Eupeodes sculleni (Fluke, 1952)
&nbsp
Eupeodes snowi Wehr
&nbsp
Eupeodes subsimus (Fluke, 1952)
&nbsp
Eupeodes talus (Fluke, 1933)
&nbsp
Eupeodes volucris Osten Sacken, 1877